Handling Specialty, Grimsby, ON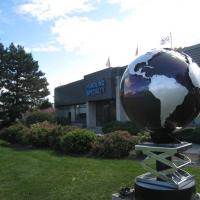 New Global Opportunities Abound as Whiting Equipment Canada Inc. acquires ownership of Handling Specialty Manufacturing Limited
An unwavering commitment to meeting and exceeding the needs of Customers, a belief in employees, a strategic complement in product offerings and an unparalleled desire for worldwide company growth and market share are the core principles that led to Whiting Equipment Canada Inc.'s purchase of Handling Specialty Manufacturing Ltd. in July 2011.
The transaction, which is being welcomed by employees at both companies, brings together over 150 years of combined experience and expertise in heavy equipment products and solutions that meet the specific needs of each Customer. Both Whiting and Handling Specialty enjoy high profile Customer bases with high rates of returning Customers and referrals, worldwide brand recognition and a dedication to the core values of honesty, commitment and integrity.
Handling Specialty President Tom Beach says: "This is the start of a new and exciting chapter in the history of Handling Specialty. With Whiting standing firmly with us, we combine energy, synergies, reputation, and Customers to continue the company's international evolution centered on continued growth, sales and exemplary Customer satisfaction."
Mr. Beach also adds that the successes experienced by Handling Specialty thus far are attributable to the hard work, expertise, collaboration and dedication of the employees. "I am extremely proud of the team at Handling Specialty and am looking forward to sharing future successes with them."
Handling Specialty will continue to operate from its manufacturing center in Grimsby, Ontario, and will work closely with Whiting's management team and manufacturing facility in Welland, Ontario, to take advantage of combined experience, expertise and resources, particularly in the international business community.
"Our current day-to-day business goals have not changed," says Mr. Beach. "As always, Handling Specialty, now as part of Whiting Corporation, will continue to provide custom-engineered lift solutions to companies worldwide. Our drive to be the very best at what we do remains unchanged, and in fact is bolstered by the presence of our new owners. It's going to be an exciting time in the evolution of our company, and I can't wait to see what the future will bring."
Whiting Equipment Canada President and CEO Rudi Kroeker says: "We welcome the employees and Customers of Handling Specialty to the Whiting family. Handling Specialty has built a solid and reputable company with an excellent Customer base by maintaining its core values and principles; this is the same way that Whiting has grown to the successful group of companies we are today."
Whiting Equipment Canada's parent company, Whiting Corporation, is located in Monee, Illinois, the global headquarters for the group. Whiting Corp. President Jeff Kahn stated: "We are tremendously excited about the growth opportunities this acquisition creates for Handling Specialty and our other entities, as it enables us to provide a wide array of "on floor" lifting equipment in addition to the "in floor" and "overhead" equipment which we now provide. Together with Handling Specialty, Whiting will pursue opportunities in the marketplace where Customers are looking to source both kinds of equipment, and believe many sales opportunities will result from capitalizing on business relationships which the other company has established."
With the acquisition of Handling Specialty, Whiting Corporation's group of companies now operates 11 manufacturing centers in three countries -- Canada, the United States and China. The company is focused on growth and market domination, with a strong focus on international Customers, and recently completed work on its sixth manufacturing facility in China, bringing the company's total manufacturing footprint to 800,000 square feet.
To contact Handling Specialty Manufacturing Ltd.:
Telephone: 1-905-945-9661
Email: info@handling.com
Or visit the website at: www.handling.com