Chemical Processing Equipment
Brochures and Whitepapers

Whiting Equipment Canada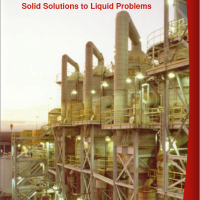 Swenson - Brochure

Whiting Equipment Canada Crystallizer Questionnaire
Whiting Equipment Canada Inc. is a licensee of the internationally recognized and accepted line of Swenson Technology, Inc. evaporation and crystallization equipment and systems for the chemical processing industry. Swenson has been pioneering process equipment since 1889. Whiting has been producing chemical processing equipment since 1930.
Related services from our Welland facility cover all aspects of the Customer's requirement including design, engineering, fabrication and "start-up" assistance to ensure the efficient and reliable operation of the equipment provided.
Whiting Equipment Canada Inc has recently designed and supplied multiple island turnkey plants for salt, potash and sodium chlorate. Typical scope of supply ranges from engineering and feasibility studies to a fully integrated process including structural steel, vessels, piping, instrumentation and electrical components.
Condensers
Crystallizers
Dryers

Decomposition
Recompression
Teflon Tube

FLUIDIZED BED

Closed
Direct Fired
Indirect Heated

Direct Fired
Indirect Heated
Steam Tube

Evaporators
Filters
Processes and Project Engineering

Natural Circulation
Thermal Vapour Recompression

Fluorine Recovery
Continuous Sugar Crystallization
Caustic Soda System
Ammonium Sulfate Crystallization and Drying
Potash Crystallization and Drying
Salt Crystallization and Drying
Salt Purification through Sodium Sulfate Removal
Sodium Sulfate Recovery and Drying
Sodium Chlorate Crystallization and Drying
Wet Process Phosphoric Acid
Whiting can upgrade systems that have been engineered by other manufacturers for a more efficient and superior yield.