Controls
Brochures and Whitepapers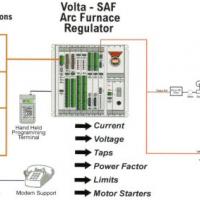 eaf hydro-arc_volta saf
Volta - SAF
Furnace Solutions
The Volta-SAF Arc Furnace Regulator is designed to provide increased "Smarts" and improved "Communication" capabilities.
Operating costs are directly related to the performance of the electrode positioning controls. The Volta-SAF EAF regulator is a rack based, high speed, digital signal processor that allows many choices of I/O cards and communication links to make it extremely adaptable for tailoring to your particular plant.
The most distinct advantage of the Volta-SAF Arc Furnace Regulation is its FLEXIBILITY that allows retrofits to be staged and have savings from one upgrade to allow further expansion of the system.
Advantages
High response
Hot and Cold Phase compensation
Wide range of power and current settings
Rapid adjustment of the arc length
Limits operation to most stable window
Reduced electrode hunting
Reduced flicker
Reduced energy
Reduced electrode usage and refractory wear
Standard Features
Adaptive impedance/resistance regulator
Fiber optic link to ABB DC or Direct Torque Control AC drives
Graphic program with built in Oscilloscope
Simple communications architecture with over 25 industrial protocols available
Hot and Cold Phase compensation
High response for flicker reduction, reduced electrode breakage and cave in protection
Set-Up and Monitoring Features
Multiple phase status monitoring / alarm diagnostics
Tap selection and monitoring
Trend analysis utilization
Power monitoring and timing
Report/ logger
Metering
Simplified set-up
Recipes for fixed design or operator modifiable set-ups
Recipes for different charge type
Whiting - SAF
Partnership
Our complete line of equipment and services include:
AC or DC Drive Winch style or Hydraulic mast positioned installation and modifications
High performance Volta-SAF Electrode Position Regulator for significant cost savings and improved productivity
Process monitoring and reporting (standard or customized)
Maintenance and troubleshooting screens
Hardwired and Computerized Operator interface
PLC control for cooling water, hydraulics, feeders, tap changing and other melt shop operations
Replacement shells for EAF'S
General EAF equipment upgrade and modernizations
Water cooled cables and panels
Our Experts:
Analyze existing operations
Review conditions of existing facility
Evaluate the performance of the existing control system
Provide advice and services to meet your goals
Provide feasibility studies on your melt shop equipment / processes
To contact a Whiting representative click HERE