Electric Arc Furnace - Volta Furnaces for Mineral Fusion
Brochures and Whitepapers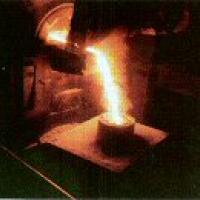 mineral fusion
Electric Arc Furnaces for Non-Ferrous and Minerals Fusion
Whiting Equipment Ltd. and its staff have been involved with the electric furnace since inception in North America.
Our users of this equipment have been instrumental in aiding Whiting to develop the furnace, as it is known today.
We can provide electric furnaces to suit your requirements for melting and refining non-ferrous alloys, abrasives, refractory materials and miscellaneous special applications.
The Volta Furnace line is designed to provide maximum reliability while offering the most cost efficient operation.
Like all Whiting equipment, the units you purchase can be tailored to suit your needs.
Metals Melting

Minerals Fusion

Copper
Nickel
Ferro Alloys
Beryllium Copper

Al2O3
MgO
AZS
ZrO2*SiO2
3Al2O3*2SiO2
MgO*Cr2O3
MgO*Al2O3
Al2O3*ZrO2
Slag (Mineral Wood)
Ceramics Wool
To contact a Whiting representative click HERE