Underhung Cranes
Brochures and Whitepapers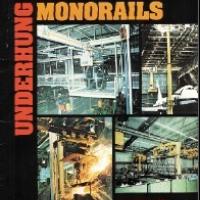 Underhung Cranes & Monorails
TRAMBEAM® is a registered trademark of Trambeam Corporation identifying a composite track section used in underhung crane and monorail material handling systems. The track combines steel top flange and plates with a lower rail of high strength alloy steel. The rail and top flange plate are continuously welded to the web plate. The lower load carrying flange is rolled to close tolerances and features a flat, raised running surface for less friction and longer track and wheel life.
Underhung Crane offer more advantages than alternate forms of material handling equipment.
• The Underhung System operates overhead and does not interfere with productive, on-the-floor activities.
• The Underhung System moves loads quickly and easily to many locations.
• Underhung Systems are more energy efficient and cost less to install and maintain.
• Underhung Systems do not pollute the environment.
• Underhung Systems have taken advantage of modern technology for safety, reliability, efficiency, ease of operation, and reduced cost.
Single Girder Cranes
These cranes are available for rated loads up to 10 tons, in spans up to 100', with 20 bridge girders and 28 end trucks to select from. TRAMBEAM single girder cranes are precisely engineered for each particular application. Induction hardened, forged steel wheels, tapered roller bearings for most applications, the extra strength of Type SW bridge girders, heavy-duty tractor drives for all motor driven cranes - all of these features add up to dependable performance and long life.
Double girder cranes
These cranes are generally used on systems incorporating long spans, up to 100', and where heavier loads are handled, up to 30 tons. They require a minimum amount of headroom and can be used in handling lighter loads, where maximum lift is essential. The same high quality components used in single girder construction are used on double girder, quality which delivers dependable, trouble-free performance.
To contact a Whiting representative click HERE