Monorail Systems
Brochures and Whitepapers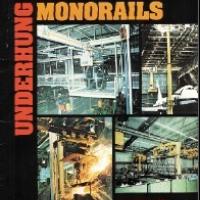 Underhung Cranes & Monorails
TRAMBEAM© monorail systems are known for their complete reliability and work saving performance. These systems are ideal for processing materials because they move materials over a predetermined path. Weighing, cleaning, painting and other operations can be accomplished without removing the material from the carrier. These systems improve plant operations by reducing floor traffic and they are designed for an unusually high degree of dependability. The inherent efficiency and speed of TRAMBEAM© monorail systems can be developed to utilize switches, lift sections and other accessories to further increase productivity and reduce labor costs.
The difference between the Underhung Crane
and Monorail is:
• The Underhung Crane System is comprised of a runway and bridge to move a load in a straight or variable path from one point to any other point in a prescribed operatingarea.
• The Monorail System, using switches, turntables, and other devices, enables loads to be transported in a wide variety of fixed routes.
Underhung Crane and Monorail Systems may be used independently and in conjunction with each other, and both can be interfaced with other forms of material handling equipment. As a result, they can satisfy or improve upon most material handling operations.
Simple enough to be easily maintained, rugged enough to handle heavy loads, flexible enough to suit a variety of handling operations,
To contact a Whiting representative click HERE