Turnkey Project
Brochures and Whitepapers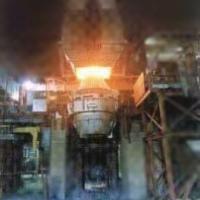 70-85 ton AOD Converter
70/85 ton AOD Converter System
with soft blowing top lance and alloy additions system
On August 9, 1998, a 70/85 nominal ton AOD converter system poured its first heat at Atlas Specialty Steels, Welland, Ontario, Canada. The system is based upon Praxair's Argon Oxygen Decarburization (AOD) process for the production of high quality stainless steel, superior castings, low alloy or specialty steels.
This turnkey project carried out by Whiting Equipment Canada Inc. proves the high degree of flexibility of the process and its success in meeting the high quality standards set out by Atlas Specialty Steels.
Technical Specifications of the Installation
CONVERTER
Number of Vessels Supplied: three (3) - figure 1
Nominal Capacity: 70 tons
Capacity Range: 55 tons to 85 tons
Inner Diameter: 14'-0"
Vessel Height (including cover): 20'-4 3/8 "
Vessel Weight Excluding Lining: 75,900 lbs.
Tilting Drive: two (2) 52.5 hp dc mill motors
Two (2) nitrogen driven backup motors
Rotational Speed: zero to 1 rpm variable
Number of Tuyeres: five (5)
Trunnion Bearing Center Distance: 19'-7 ½" - figure 2
MOTORIZED OPERATOR'S PLATFORM
Function: a chemistry, temperature samples and preheating platform
Drive System: 5 hp dc
Dimensions: 27'-0" high x 16'-0" wide x 26'-0" long (approximate)
OXYGEN LANCE
Function: rapid decarburization
Cooling: water
Movement: horizontal 21' -0"; vertical 9'-0"
Hoist Drive: 20 hp
MOTORIZED FUME HOOD
Function: capture process fumes
Cooling: refractory lined, air cooled
Drive: 10 hp
Movement: horizontal 21'-0"
Capture Mode: an accelerator stack projected to the canopy roof
PREHEATERS
Function: preheat AOD vessel and ladle linings
Quantity: three (3)
Capacity: one (1) vertical ladle preheater, 7 x 106 Btu/h
One (1) horizontal AOD operating vessel preheater, 10 x 106 Btu/h
One (1) vertical AOD standby vessel preheater, 10 x 106 Btu/h
VALVE RACK AND GAS CONTROL SYSTEM
Function: perform process gas control
Supplier: Praxair "IRS" (Intelligent Refining System)
TRANSFER CARS
Function: move process slag pots and ladles
Quantity: two (2)
Capacity: ladle transfer car - 160 tons, 10 hp dc, 35 ft/min
Slag pot car - 50 tons, 5 hp dc, 30 ft/min
IMMERSION SAMPLER
Function: remote robotic temp./chem. samples at ladle post treatment station
Quantity: one (1)
ALLOY ADDITIONS SYSTEM
Function: delivery of accurately weighed alloy additions to the AOD vessel while operating, using full automation
Bin Quantity: twenty-two (22), one (1) operating floor hand additions weigh hopper
Overall Dimensions: 39'-0" high x 26'-9" wide x 80'-0" long (approximate)
MISCELLANEOUS AUXILIARY EQUIPMENT
Installation of a 50 ton service crane • 5 ton jib service crane
Melt shop building expansion
Ladle post treatment station
Cooling water system
AOD vessel bricking platforms
Vessel lifting beams
Training and commissioning programs
SYSTEM DESCRIPTION
The AOD plant had to be integrated into the existing melt shop, downstream of two (2) operating electric arc furnaces, a VAD all originally supplied by Whiting and a VOD. Pits were not allowed. All equipment had to be built on a mezzanine basis, 24 feet above the plant operating floor. This accounts for the unusual elevation of the tapper's platform necessary to reach the vessel mouth area and the high piers needed to support the vessel. The tilt drive system is - helical gear, dual-input, single-output, double-quadruple reduction parallel shaft gear drive, connected through a gear coupling and driven by two (2) 52.5 hp dc mill motors. In addition, two (2) nitrogen motors were installed as a backup in case of power failure.
To contact a Whiting representative click HERE