Drop Tables
Brochures and Whitepapers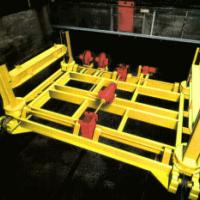 Railway and Transit - Drop Tables Brochure
Whiting Drop Tables are available in capacities to transfer practically any locomotive truck mechanism from a service track to a release track quickly and easily.
The illustration below depicts a 125 ton Whiting Drop Table used to transfer a six wheel diesel truck to a release track at right. The locomotive is supported by Whiting HVS Body Supports, which is one of eight different support mechanisms designed to perform this critical function.
Whiting full truck Drop Tables can be supplied with a unique sectional top within the main table top, which is used when only a single axle wheel is set to be removed; a Whiting value feature.
In the design shown above, the release track is covered with a hinged "bascule design" cover. The cover design eliminates superstructure, enabling the truck to be removed by an overhead crane, and covers the pit when not in use. The bascule design can be supplied with rails to allow for continuous flow of locomotives through the shop when the table is not in use.
Various types of release track covers are available including covers that raise automatically as the Drop Table is raised; or fixed covers that can be removed by overhead cranes.
Drop Tables for Single Wheel Set Removal - Whiting Offers Design Experience, Product Quality, Operational Economy
The partial cutaway view illustrates a pair of drive wheels with traction motor being raised by a Whiting BW Drop Table specifically designed for single wheel set removal.
The BW Drop Table eliminates the need for large, expensive pits. All design features found on Drop Tables for full truck removal are incorporated in the BW model Drop Table.
All Whiting Drop Table designs are adaptable to your service requirements. Installations now serve pits from 4 feet to 26 feet in width; capacities range from 20 to 250 tons.
For complete information on how Whiting Systems Engineering can benefit your maintenance operations, contact the world leader in Drop Table technology... Whiting Corporation.
Whiting Drop Tables
Drop Tables offer several advantages over other methods of servicing rail equipment...convenience being the most obvious. To remove drive wheels or trucks with a Drop Table, the locomotive is located and supported over the table top, where the trucks (or wheels) are disconnected, lowered, transferred laterally and raised to a release track. The trucks can then be moved to a maintenance area where inspection and repair can be performed quickly and efficiently.
Even though each Whiting Drop Table is designed to meet a specific application, our experience enables us to incorporate proven, standardized components into the unique design which lowers the original cost and impacts favourably on future repair costs.
Each Whiting design feature remote operation - no need for personnel to be on, or near the Drop Table while it is in operation - and "self-locking" worm screws that remain stationary in the event of a drive mechanism malfunction regardless of table load.
The photograph above is a 4 screw, 60 ton, BWH, Drop Table servicing locomotives at a major southeastern railroad. This Drop Table is typical of the more than 1000 installations on the world's leading railroads.